We have recently seen a problem with online payments when using Microsoft Internet Explorer versions 8 and 9.
This seems to be related to security updates from Microsoft that impose more restrictive limitations on some types of sites.

This procedure will take about 5 minutes, you only need to do it once on any given computer



Please use this procedure to add this payment website to your "trusted sites zone".
---
Close all Microsoft Internet Explorer windows except the one that you will work in for this fix.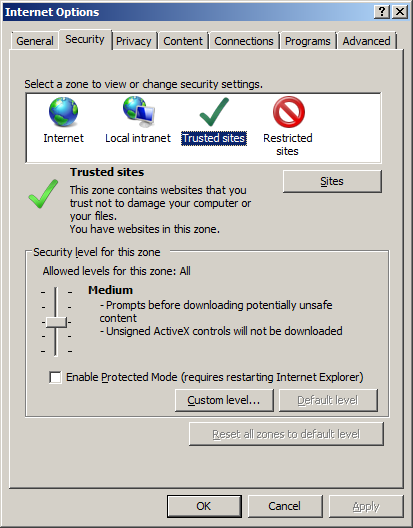 Begin at the Tools menu, upper right area of your IE window
click Tools

Click Internet Options (at the bottom of the list)
click the Security Tab
click Trusted Sites (green checkmark)
click the Sites button
type (or copy/paste) the following into the "Add this website to the zone:" field: https://*.colorado.gov
click the Add button
make sure that the "Require server verification..." checkbox is CHECKED
click Close
click OK
CLOSE Internet Explorer Browser completely.
Make sure that all Internet Explorer windows that you may have had open are closed.

Now start Internet Explorer again and try the payment site again.
It should work properly now.

IF it's still not working, PLEASE CLICK HERE TO SEND US A MESSAGE.
We can help you resolve the issue, but only if we know that you are experiencing difficulty.