The Town of Limon is now accepting: credit/debit cards and e-check payment, as well as cash and check for all payable fees.
Some of the payments must be made at the counter in Town Hall for Dog Licensing OR at Tamarack Public Golf Course for Golf.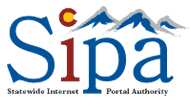 The following payments may be made online OR at the counter at Town Hall:
Building Permits - Municipal Court - Utility Billing - Parks and Recreation - Other Payments
Credit cards accepted are : Visa, Mastercard, and Discover
Please click this button to pay Court Fines and selected other Town of Limon payments :
The above payment processing system is hosted by the State of Colorado Internet Portal Authority (SIPA), on their secure servers. Online processing is provided as one way to conserve resources, as a convenience for you, and to reduce overall town expenses. A processing fee will be added to your electronic payment by the State of Colorado. You will see your full charge prior to submitting payment. The Town of Limon receives no part of the processing fee.

The credit/debit card fee will be $0.75 plus 2.25% of the payment.
The e-check fee will be $1.00.
You may, of course, continue making your payments at the counter using cash or check without any processing fees.
Our NEW online Payment Mechanism via XpressBillPay is available as shown below.
You will find this a more convenient method of paying utility bills.
To pay all non-court bills ONLINE by credit card
or e-check please click this button :